Testimonials





HardCore Hockey
Conditioning
Future OHL Stars
"Our son, Aaron's off-ice development with Coretherapy.ca (Hardcore Hockey Conditioning) has greatly improved his speed and strength. His individualized sessions of weight training and core exercises have translated into a vast improvement in his balance and agility on the ice.
Overall, Hardcore Hockey Conditioning's off-ice program is one of the best decisions we have made for our sons hockey development."
Greg & Joanne Taylor
St. Catharines AAA Minor Midget Jr. Falcons
International Silver Stick Champions (Tournament MVP)
2009. 2nd Round Draft Pick of the Ottawa 67's (OHL)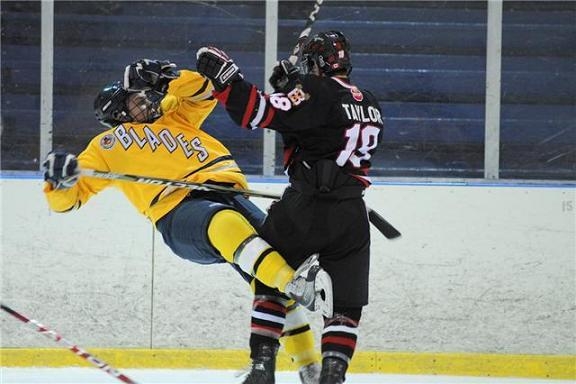 "With a son entering his minor midget year, we needed a qualified therapist who could bring him up to the level of fitness required to excel to the next level. With Joseph's experience and education, my son has made significant gains, in a short period of time. Eager to see the long term affects."
Frank Diodati, Hockey Dad
Niagara Falls 'AAA' Thunder
2009 Draft Pick of the St. Michaels Majors (OHL)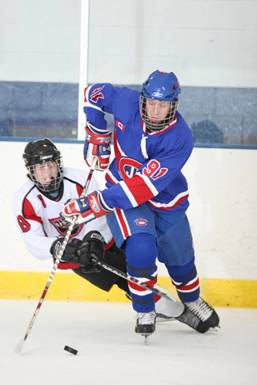 "Joe's Core Training program helped us become stronger and faster hockey players. He pushed us hard, but we always had fun. He treated our injuries with care, and helped us become a better and more competitive team".
Joey de Concilys- Defensemen
St. Catharines St. Catharines Jr. Falcons Minor Bantam 'AAA'
2009 Draft Pick of the Niagara Ice Dogs

"They were able to motivate our players to improve at each and every session. Most of the time, the boys were having so much fun they didn't even realize how hard they were training.
Without a doubt, their sports specific hockey training program reduced injuries and their injury management program helped return our athletes to play sooner and safer. Their program definitely contributed to the success of our team!"
*2006-07 St. Catharines Minor Hockey Association "Team of the Year Award" winner
2006 Vic Teal Memorial Hockey Tournament Champions
Tito de Concilys
Trainer /Team Parent: International Silver Stick Championship Team
St. Catharines Jr. Falcons Minor Bantam 'AAA'

NCAA Athletes
"Hardcore Hockey Conditioning" gave us the ability to improve on our strength, speed and power, Joe provides great instruction in the drills in a low pressure setting."
J.J Martin & Joey Martin
Former Thorold Jr. B Blackhawks, Brock Badger Varsity Team & NCAA Hockey Players



"The workouts paid big dividends for me. I was able to feel a noticeable increase in speed, power and stability on the ice, which helped my transition from Jr. B Hockey to playing NCAA hockey".
"Hardcore Hockey Conditioning" program was well organized, effective and constantly challenging with a slew of drills."
Chris Risi
Mercyhurst College Hockey
Former Captain-Thorold Jr. B Blackhawks

"Your program although intense and demanding, has been a great experience and has made a difference in my core, power and agility, resulting in a positive development both on and off the ice."
Joe Koudys
University of Alabama-Huntsville Chargers
Former Thorold Jr. B Blackhawks, Sutherland Cup Champion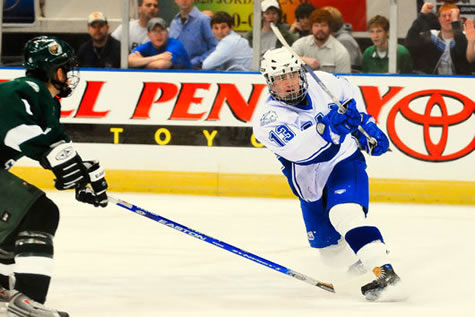 HardCore Hockey
Conditioning
"Many thanks to Joe for his Hardcore Hockey Conditioning training program. My Son Brett has been involved with other training regimens over the years and your core training was by far the best. As a goalie, core strength and goalie specific training allows you to create an athleticism that wins games. Thanks for a great season."
Dr. Kevin Sinclair
Team Parent: International Silver Stick Championship Team
St. Catharines Jr. Falcons Minor Midget AAA Hockey Team

"Joe offered a great combination of strength, speed and power drills. His commitment to constantly improve on the fitness of their clients was repeatedly shown through the instruction they offered prior to and during the drills, which were furthermore directed in a fun, low pressure manner, which in turn always achieved constant commitment from us, through respect for them.
Lastly, his skills in assessing and treating our injuries were accurate and always offered a thorough recovery plan for entire team."
Kevin Ward
Former Thorold Jr. B. Blackhawks Captain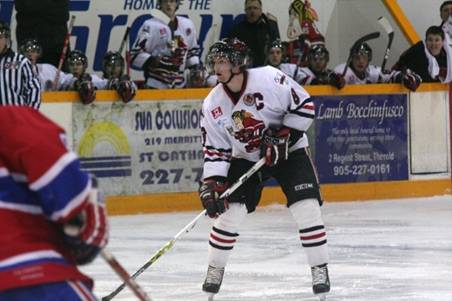 "Not only was he a great teacher in the off ice techniques, but he was a fantastic therapist all throughout the tough grinding season, and most of all, a great guy to be around and talk to."
Sincerely,
John Falzoi
Former Thorold Blackhawk
Sutherland Cup Champion

"Joe brings a wealth of knowledge for both injury treatments along with off-ice conditioning."
Matthew & Dom Marchetelli
Niagara Falls Thunder AAA Minor Bantam Hockey

"The proficiency of the core program is what you would expect at the pro level. Their commitment to age appropriate training techniques that enhance on-ice capabilities are unlike anything I've seen in 15 years of coaching. Any team wanting a competitive edge will find it in Coretherapy.ca, and their HARDCORE HOCKEY CONDITIONING Program".
Robert Hay
AAA Hockey Coach
St.Catharines Falcons. AAA Minor Bantam

"Working out and staying fit actually became fun and something they look forward to each week."
Scott and Tricia Foote; Hockey Parents
St. Catharines St. Catharines Jr. Falcons Minor Bantam 'AAA'

"The conditioning has assisted the boy's physical preparation and has played a valuable role in preventing the chronic repetitive injuries (groin & abdominals) which, are usually suffered in hockey. In addition to the conditioning, their therapy services have assisted those that suffered injuries to a rapid return to play."
Frank Girhiny
General Manager;
Thorold Jr. B Blackhawks Sutherland Cup Champions
Coach; St. Catharines Minor Midget AAA Jr. Falcons,
International Silver Stick Champions
Assistant Coach: OHL Niagara Ice Dogs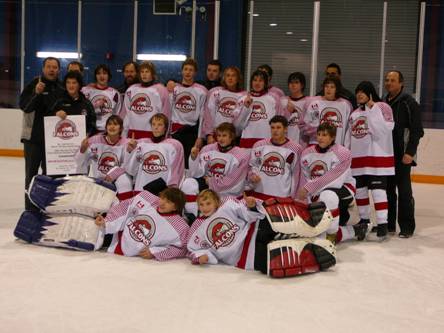 Adult Personal Training
"With Joe's encouragement, support and motivation, I am back to lifting what I used to lift 5 years ago, and I have renewed my momentum to continue. The time that Core Therapy has taken to create a manual for me to follow outlining my specific needs and desired target training areas is a further testament to the level of commitment and dedication they have for their clientele."
Karen Primmer. City of St Catharines. Recreation and Community Services

Therapy Testimonials
"Dan broke his ankle within two spots this summer, his lacrosse summer games year, his world ended. Originally introduced to Joe two years ago by a former hockey coach, we knew Joe was our only answer to salvage the season and get proper therapy and training. The first word we got from the doctors was not good, his lacrosse season was over before it began and quite possibly the entire year. We went to Joe faithfully for therapy and started training as soon as we could. Follow up with the doctors showed it was healing nicely and he could resume playing again soon. Not only was Dan able to play hockey this year, he got to play in the lacrosse Qualifiers. Without Joe's therapy, encouragement and training it might have been a different story. Dan went on to play U16 field lacrosse and where the team captured a bronze in Provincials. When the ankle was re-injured at the start of hockey season, we went to Joe immediately. With Joe's help, Dan only missed 6 games. We still go for the occasional therapy session even now and train with Joe whenever possible. We would recommend Joe's therapy and training, and do, whenever someone we know has an issue."
Scott & Patricia Foote

"As I got stronger new exercises were incorporated, which also kept things fresh. Joe has an innate sense when to introduce variety to my program, so I wouldn't get bored. I have found training sessions challenging and leave each session felling invigorated. The strength training coupled with Joe's "you can do this" attitude always gave me that boost of energy and determination to persevere and overcome my injury."

Janet McQuay
HOME | CONTACT US | SERVICES | TESTIMONIALS | LINKS | MEDIA GALLERY | STRENGTH CONDITIONING
All Rights Reserved © Core Therapy